The money will benefit three areas of Norfolk and parts of north Suffolk following a successful bid by Norfolk County Council and the Norfolk Rural Business Advice Service (NRBAS).
The two organisations worked with Suffolk County Council, district councils, the private sector and other partners to ask the East of England Development Agency for funding under the Rural Development Programme for England.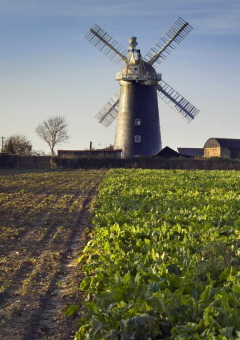 It has seen Norfolk and north Suffolk land £10m of support to rural development - half the regional allocation of this funding.
With this being match-funded by eligible businesses who are successful in bidding for a grant, the economies of the following areas will see a real term boost of well over £20 million.
Eligible organisations located in the Brecks, the Waveney Valley and the Norfolk Coast and Broads will be encouraged to apply for grants.
Last year, the Norfolk County Council levered in an additional £35 from external sources for every £1 spent on economic development - at least £77.15m in total.
Brian Iles, the council's cabinet member for economic development, described the funding as a major boost.
"This extra money is vital to the county," he said.
"Match funding put in by businesses means that the £10 million we have secured will ultimately be doubled in terms of how much will be invested into the rural economies of the respective areas."
Local action groups (LAG) - including representatives from the public, private and not-for-profit sectors - have been put in place to develop the funding programme.
Facilitators in each of the three areas will work with businesses in helping to shape their ideas and helping them to apply for grant funding.
They will also encourage collaborations of businesses that could work together on development of joint projects for grant funding.
Michael Mack, director of the Norfolk Rural Business Advice Service, said: "All partners hope that the funding will create and expand businesses, help to support diversification of the rural economy and sustain rural communities."
The Brecks programme will look to support farm-based diversification with a key focus on businesses which make use of waste or green energy options.
It will also build on the tourism potential of the area through collaboration and development of environmentally sensitive tourism and recreation.
The Norfolk Coast and Broads programme will look to encourage the development of existing, and formation of new, businesses, based on the sustainable use of environmental assets.
Finally, the Waveney Valley programme aims to work with businesses and communities to develop the area's identity and its wider awareness.
It is hoped this will create economic opportunities for tourism, local food and artisan businesses.