A £1.2m project aims to provide training for people employed in rural businesses across north-east England.
An estimated 2,000 staff at rural micro-enterprises will have the opportunity to increase their knowledge and skills as part of the investment which has been approved by regional development agency One NorthEast.
Training will be provided for land-based businesses across a range of subjects.
The idea is to help them improve their profitability, competitiveness and sustainability, while encouraging firms to exchange knowledge and increase demand for higher-level skills in land-based industries.
The work will be managed by Lantra , the sector skills council for environmental and land-based industries.
It is being supported by the Rural Development Programme for England (RDPE).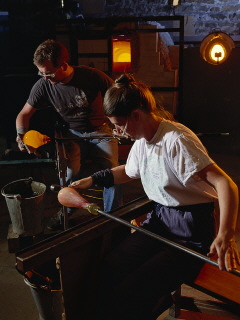 The project is just one part of the RDPE's socio-economic investment in the region, which is jointly funded by
Defra
and the
European Union
and managed by One NorthEast.
One NorthEast rural board member Ian Brown said: "Skills development is a huge area of challenge for land-based businesses, particularly those with a very small number of staff where finding the time and resources can be difficult."
But building an understanding of a new technology could help employees do their job more quickly or find new ways to market their produce.
"As well as meeting the skills needs of farming, forestry and land management businesses in this region, this investment is also about building the demand for skilled workers.
"Land-based businesses are a key part of the rural economy, and we want them to have the tools to be as competitive, adaptable and sustainable as possible."
Lantra hopes the project will encourage environmental and land-based businesses to recognise the business benefits of training and to drive-up levels of investment in skills and learning.
Kevin Patrick, the agency's regional manager, said: "When businesses are under pressure skills development goes way down the priority list, when it should actually be seen as an integral part of the business planning process.
"This programme is a real opportunity to kick start a sustained development programme which will bring lasting benefits to many agricultural, forestry and land management businesses in the north-east."
Over the next few months, partners from industry groups and unions will help Lantra to prioritise the skills needs of land based businesses in the region, and providers will be procured to offer that training to them.
The skills programme will work with experienced and accredited providers, but may also test out new ways of delivering training and transferring knowledge.
Where appropriate, employers and staff taking part will be able to work towards relevant training body or provider qualifications.
             See also:
                        • Experts bolster north-east rural economy (3 June 2008)
                        • New funding for rural business network (26 February 2008)
                  • Tax changes 'bad for rural business' (26 January 2008)
                  • Red tape 'strangling rural development (21 January 2008)
                  • £1.6m for rural businesses in north-east (10 July 2007)