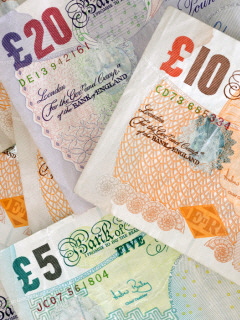 Deputy Prime Minister Nick Clegg unveiled the Regional Growth Fund on Tuesday (29 June).
It followed confirmation that regional development agencies are to be axed.
The Commission for Rural Communities, which acts as the government's rural watchdog, is also to be abolished.
The Regional Growth Fund will operate in 2011/2012 and 2012/2013.
It will help areas most dependent on public sector employment as the government strives for private sector-led growth and prosperity.
Both private bodies and public-private partnerships will be able to bid for funding, said Mr Clegg.
They will have to demonstrate that funding bids will bring in private investment and support sustainable increases in private sector jobs and growth in their area.
Mr Clegg said: "While we sort out the nation's finances we can also help to foster a thriving and more balanced economy so that no region or community gets left behind.
"The Regional Growth Fund will create the conditions for growth and enterprise in the regions by stimulating investment and create sustainable private sector jobs.
"Alongside our commitment to waive some employment taxes for new businesses starting up in targeted regions of the country, this fund can make a real difference to companies during difficult times."
Mr Clegg also set out plans for Local Enterprise Partnerships (LEPs).
These will bring together councils and businesses on an equal footing with one voice, replacing existing regional development agencies.
Local authorities and business leaders are being asked to form LEPs to encourage business success and economic growth.
Business secretary Vince Cable said the government was determined to rebalance the economy towards the private sector.
"It's important we create a more effective structure to drive economic growth and development across the country.
"We want a structure that reflects the genuine interests and commitment of enterprise, local councils and other stakeholders like universities and colleges.
"Local enterprise partnerships will provide that vision and then take on the task of renewing local economies and tackling local barriers to growth.
"Today we are asking them to tell us about their vision and I'm looking forward to what they've got to say."
The LEPs will tackle planning and housing, local transport and infrastructure, employment, enterprise and supporting business start-ups.
Other roles currently carried out by the RDAs will be led nationally.
These will include inward investment, sector leadership, business support, innovation and access to finance.
Further details of the Regional Growth Fund, and the creation of LEPs, will be set out in a forthcoming White Paper on local and regional growth.