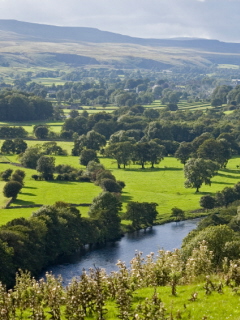 Funding was agreed by the
One North East
regional development agency.
It follows a £1m pilot scheme which supported over 400 rural businesses in less than a year.
The new cash will be managed by Business Link over two years.
The project will help rural enterprises with start-up revenue and capital investment costs, technical and marketing support, product development, branding and design.
Individual applicants will have to secure at least 50% of total project costs from private sources.
Ian Brown, One North East's rural board member, said: "Small businesses are a huge part of the rural economy,
"It is important that we show our support by putting our money where our mouth is and making this funding available to those who can benefit from it."
The funding would help rural businesses realise their aspirations of sustainability and growth, said Mr Brown.
"This package of funding is great news for rural farms and micro-businesses which may receive essential funding during difficult times."
It would allow them to grow and prosper and consequently have a beneficial knock-on effect on the region's economy.
Businesses already funded under a pilot project include Tweddle Animal Farm, near Hartlepool.
It received £2,500 to improve its indoor attractions to increase visitor numbers in the winter.
Another business, Aldin Grange Farm, near Bearpark in County Durham, invested £9,500 in its farm shop and fishing lake facilities.
The scope of the projects has been broadened so the installation of on-farm micro-renewable energy projects are also now eligible.
These can include wind turbines, micro-hydro, biomass boilers and heat exchangers.
The funding is being awarded as part of the government's Rural Development Programme for England (RDPE).
Adrian Sherwood, One North East's RDPE manager, said: "The RDPE acts as a catalyst for these businesses to access the wealth of mainstream support which is essential for their growth and sustainability.
"The funding is about helping rural businesses develop alternate sources of income which will in turn help our farming, food and forestry industries thrive and become more competitive."
Together, this would enhance the opportunities for rural businesses and communities in the region.