Some £536 million has been allocated to eight English regions under the government's Rural Development Programme for England (RDPE).
In addition, Cornwall and the Scilly Isles will receive a further £55 million.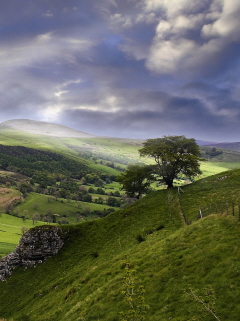 Delivery of the regional part of the programme, which runs until the end of 2013, is being managed by
England's regional development agencies
.
Regional funds delivering rural economic and social funding would be opening for business throughout January 2008, said the Department for Environment, Food and Rural Affairs.
The money aims to help rural businesses increase efficiency, develop new markets and products, help new businesses succeed and support rural communities.
Agencies will work with partners to develop projects to address the priorities set out in regional implementation plans.
They will also work with the government's landscape agency Natural England and the Forestry Commission on integrated projects.
Shaun Thomas, of Natural England, said he was looking forward to addressing the needs of rural areas and the natural environment.
"The rural development programme represents a fantastic opportunity for us to help protect and enhance the natural environment and support rural businesses and communities."
Under the LEADER approach, it is expected that nearly one third of the money will be for projects by local community groups working together for lasting change.

The East of England Development Agency is the lead agency for rural affairs. It has already opened up its regional fund to applications.
Chairman Richard Ellis he wanted to encourage businesses and community organisations to link up to share knowledge and resources.
"This massive investment in rural communities in the East of England will enhance economic opportunities for businesses, social enterprises and community groups."
             See also:                           
                            • £3.9bn funding boost for rural England (6 December 2007)
                            • Regional policy lacks clarity - MPs (4 July 2007)
                            • £10m funding for rural communities (18 December 2007)
                            • Make voice heard, rural residents told (4 December 2007)
                            • North-west has say on rural proposals (19 November 2007)
                            • £28m for south-west communities (4 October 2007)