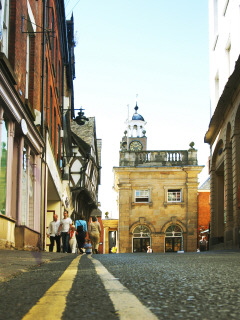 More than four out of five councils are reporting an increase in empty shops, reveal new figures.
Some 85% of local authorities said the number of empty town-centre properties had increased as a result of the economic downturn.
Two thirds of these local authorities said empty shops were having a significant or moderate impact on their high streets.
The figures were published by the Local Government Association, which represents councils in England.
It is calling for special temporary powers allowing town halls to transform empty shops during the recession.
Shops standing empty could be used as training centres, libraries, bring-and-buy sales or youth clubs, said LGA chairman Margaret Eaton.
Empty shops in town centres risked becoming hotspots for anti-social behaviour and could cause high streets to fall into a spiral of decline, she warned.
"Rows of boarded up shops are a sad reflection of the recession.
"Not only do they signal a local economy in decline, they also become a hotspot for anti-social behaviour and drag down the whole feel of an area."
"Decisive action must be taken to stop our high streets turning from clone towns into ghost towns."
The best option was for new or existing businesses to move into empty premises.
Where new occupants for a shop couldn't be found, councils should take the lead to stop streets sliding into decline.
"The millions of pounds spent resuscitating this country's town centres must not go to waste during these bad times."

To prevent buildings from faillling into disrepair, empty shops could be used to provide a range of services.
"Councils could step-in and use some vacant shops by, for example, providing a one-stop shop for people hit by the recession to get information about jobs and benefit entitlements."
The LGA is also calling for a cut in VAT from 15% to 5% on the refurbishment of empty shops to encourage new business tenants.
It believes the government should automatically grant small business rate relief to qualifying companies and give councils the power to offer breaks on business rates.
This would prevent some shops from going bust in the first place, the LGA said.