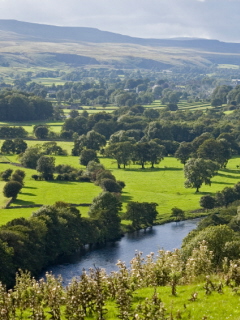 Although rural areas are recovering from the recession, some are failing to reach their potential, suggests the Commission for Rural Communities.
"From all the evidence we have considered, there is a clear message: for most rural areas economic recovery is underway," it said.
Numbers of Job Seekers Allowance claimants were falling, business start-up rates were rising and so too was business confidence.
But barriers to growth meant there were clear priorities for action at both a national and local level.
The document, Recovery and Growth in Rural England, examines the prospects for the rural economy.
"Local rural economies are very diverse," it says.
"This makes the existence of strong and well-evidenced local economic assessments and plans all the more important.
"Local businesses, communities and voluntary organisations must be given a central role in the development of these assessments and plans."
But the document warns there is a risk that government will focus on sectors that have the highest and most immediate potential for growth.
"There is a risk that some local authorities and their partners could be neglecting important features of their rural economies," the report says.
These include high levels of self employment; home-based businesses and large proportions of so called 'economically inactive residents'.
"Given their collective contribution to employment, income, wealth and services these omissions need remedying," it warns.
New business formation is a widely used indicator of productivity and competitiveness.
But the important contribution made by new firms started in the owner's home are often overlooked, suggests the document.
Sectors such as manufacturing and construction may have declined in some places but also often remain important, it adds.
Yet larger high profile investments in local economies don't necessarily help small and medium-sized rural enterprises.
"Such facilities or investments even in rural counties are not always designed for, nor accessible, to rural or small firms."