Roger Liddle, who heads up Cumbria Vision, pledged to "lead the campaign" to deliver the region's economic strategy by securing public and private investment.
Mr Liddle, a former prime ministerial adviser, told the North-West Evening Mail that the tide was turning for Cumbria.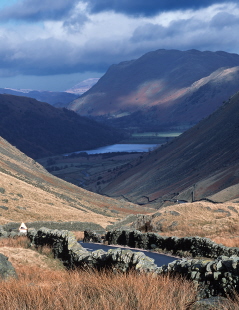 The county's rural economy has faced many challenges over the past 12 years.
Cumbria was one of the counties worst hit by the 2001 foot-and-mouth outbreak.
It has also suffered from increased competition from global tourism, the decline of traditional manufacturing industries and the decommissioning of the Sellafield nuclear site.
But Mr Liddle said the Lake District continued to attract 16 million visits a year, generating more than £1.1 billion for the region's economy.
"With the creation of the University of Cumbria, the sea change in government energy policy, the possibilities for rural regeneration and the promotion of sustainable, high value-added tourism, the new opportunities are immense."
Cumbria Vision is the lead organisation charged with planning the county's economic strategy by working with partner organisations on an exciting programme of high profile projects.
The ultimate aim is to make Cumbria as attractive to businesses and investors as its landscape is to the millions of visitors from around the world who flock here each year.
Aerospace company BAE Systems was recently reported to be considering opening a nuclear engineering training centre in the county.
Proposals for the £1.2 million nuclear and radiation instrument facility are under consideration, with BAE in talks with regeneration firm West Lakes Renaissance.