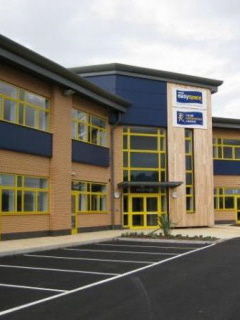 The £3.5m state-of-the-art facility on the edge of Shrewsbury is home to more than 32 start-up and young businesses.
Companies range from lift maintenance experts and technology specialist to a thriving on-site cafe and fully-equipped gym.
Shrewsbury mayor Alan Townsend received a guided tour and discussed with tenants the benefits of being based in the 28,000 sq ft centre.
"We need to do everything we can in Shrewsbury to develop the next generation of entrepreneurs and companies," said councillor Townsend.
"This rural enterprise centre is a fantastic way of supporting local business.
"The fact that 100 new jobs have been created at the height of one of the worst recessions in decades shows what you can achieve when you create the right conditions for enterprise."
As well as a mix of office and workshop space over 52 units, the centre includes car parking and meeting space.
It is part of a larger network of enterprise centres being developed by Advantage West Midlands (AWM) and Evans Easyspace.
There are two main hubs - one at Shrewsbury and one in Rotherwas, Hereford - with two smaller spokes also open and operational at Leominster and Ludlow.
Combined, the four facilities are home to 63 businesses.
Easy-in easy-out leases aim to give young businesses unrivalled flexibility.
AWM Rural Regeneration Zone team leader Ian Edwards praised the public-private sector partnership behind the centre.
"You can tell from the four existing centres that there is a real demand in the marketplace for affordable, high quality, high spec, enterprise space.
"We are now looking at moving forward the four additional spokes at Bridgnorth, Market Drayon, Oswestry and Ross-on-Wye as soon as possible."
When full, Shrewsbury rural enterprise centre will be responsible for creating 200 jobs in the local economy.