The Growing Routes initiative was launched by the Yorkshire Agricultural Society less than five years ago.
It has since helped create more than 400 full- and part-time jobs.
Director George Hamilton said: "So far, we have assisted more than 230 businesses and in addition we have now chalked up this major milestone."
The scheme provides business advice, grants and ongoing support to youngsters wanting to set up their own businesses in Yorkshire and the Humber.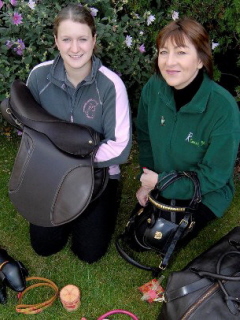 Four co-ordinators work with applicants, combining help and encouragement with business advice.
A mentoring service is provided by a team of 50 voluntary business professionals.
The programme is funded by the Yorkshire Forward development agency which is responsible for administering the Rural Development Programme for England (RDPE)  in the region.
Grant recipients include Sarah Steel of Pontefract, who last autumn became the 200th person to be helped by initiative.
Ms Steel set up Yorkshire Saddlery Repairs, producing a range of leather goods including equestrian head collars, bridles, boxes, dog harnesses and accessories.
"I had no idea about starting a business – I thought I could just do repairs, make things and sell them, take the money and that was it," she said.
Growing Routes had enabled her to learn about business plans and book-keeping, as well as providing money to buy some equipment.
"I'm now going to take up the Growing Routes mentoring service which will help keep me going in the right direction," said Ms Steel
"I'm confident my business fills a real niche in the market, and that  I can really take things forward."
             See also:
                            • Call for support as rural firms struggle (16 April 2008)
                            • £600m rural fund opens for business (8 January 2008)
                            • Probe into Yorkshire's rural economy (11 October 2007)
                            • Longest trail 'will boost rural economy' (11 July 2007)
                            • Region to exploit natural economy (15 June 2007)