Lawyers acting for the National Farmers Union have sent letters claiming negligence to two laboratories which share a site believed to have been the source of the outbreak.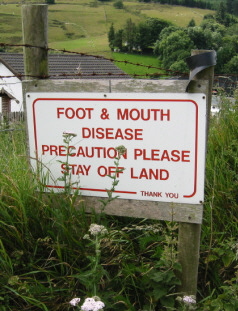 The private firm
Merial
and the government's
Institute of Animal Health
– both based on the
same site at Pirbright
, Surrey.
NFU president Peter Kendall said: "Losses as a direct result of the escape have decimated many farming businesses and we are going to throw the kitchen sink at this in an attempt to help members get redress."
Mr Kendall acknowledged the government might well be right in its view that the outbreak was due to a "unique and unhappy combination of circumstances".
But the NFU did not accept that was the end of the story.
The exact level of compensation sought had yet to be calculated, said Mr Kendall.
He added: "Those responsible should be called to account and it will be for the courts to decide who is liable and what losses they are liable for."
At the height of the outbreak, the NFU estimated that meat export restrictions alone were costing livestock producers £1.8m a day.
The British Meat Processors Association is also seeking legal advice on behalf of members seeking more than £16m in compensation for similar losses.
The government had recognised the hardship felt by rural communities and tried to create packages to address some of the economic damage, it acknowledged.
But ministers had yet failed to address the issues being felt by the meat sector which had suffered three months of financial damage it could not afford.
BMPA director Stuart Roberts said: "In relation to the foot-and-mouth outbreak it appears that the government's own principle that the polluter pays does not apply."
Companies which released pollutants into the environment had to bear the financial consequences of and the foot-and-mouth incident should be treated no differently.
"I must assume that if robust systems had been in place at the Pirbright site then the 2007 foot-and-mouth outbreak could have been avoided."
See also:
•
Call for evidence on rural economy
(17 October 2007)

•
£12.5m for foot-and-mouth farmers
(8 October 2007)