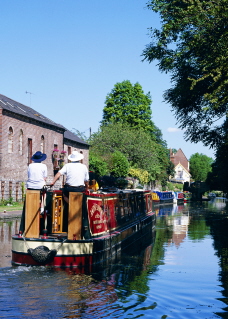 Costing £250,000, the Rural Escapes initiative will be unveiled this June – just before the summer holidays.
It will be aimed at families, couples and singles who will be urged to make the most of the British countryside.
The campaign will combine lessons learned from previous Outdoor England and Taste England initiatives to showcase the best of England's diverse countryside, coastline and rural communities.
Potential visitors will be encouraged to enjoy a myriad of activities.
They range from walking, cycling and outdoor pursuits to wildlife watching, shopping for local food and crafts, dining out and historic sightseeing.
New figures suggest it has taken Britain's visitor economy five years to recover to levels last seen in 2001 when foot-and-mouth led to the closure of the countryside.
The events of 9/11 also triggered a slump in visits, especially by American tourists.
Based on available 2005 data, however, the value of Britain's visitor economy is now estimated at £85bn. Accounting for inflation, this places it £600m ahead of its worth in 2000.
Tom Wright, Visit Britain's chief executive, said: "This new figure shows that British tourism is currently in good health and reflects the visitor economy's recovery from the double whammy of the foot-and-mouth outbreaks and 9/11 in 2001."
Subsequent years of slow growth were hit by sars and the invasion of Iraq. But a strong bounceback from 2004 was helped by European Union enlargement which has seen increased visits from Polish, Czech and Hungarian tourists.
Mr Wright said he wanted to raise awareness of the vital importance of tourism to the economy. "Business leaders, opinion-formers and decision-makers hold the future growth of Britain's visitor economy in their hands," he said.
Each year, Britons themselves make more than one billion tourism day trips and spend £44.3 billion in their own country. On average each trip lasts five hours – equivalent to 570,000 people taking a year off to visit Britain.