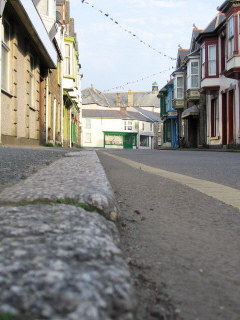 The government's Real Help Now scheme, which helps reopen or re-use empty shops, was extended on Friday (4 December).
The additional money will be used to help local authorities find new uses for vacant premises.
It takes the total allocation for empty shops to £5.6m.
One in three local authorities set to benefit from the extra money include rural towns in their area.
It comes after the government was criticitised when market towns missed out on the initial tranche of money.
Funding was allocated to the top half most deprived local authority areas, based on the Index of Multiple Deprivation, and the highest vacancy rates.
A full list of local authority recipients can be downloaded by clicking here (175KB Word document).
Communities secretary John Denham said he was determined to ensure town centres remained vibrant places despite the economic downturn.
"The downturn has really hurt some English high streets especially where there was already high deprivation."
Funding would make a real difference in keeping town centres vibrant.
"Councils can put their creative ideas to work and transform those boarded up eyesores into attractions that bring the shoppers back to the high street."
Each council will receive £52,000 to turn empty premises into a showroom for local artists, a nativity scene or other activity.
The government is also making it easier to use empty shops with a standardised lease for temporary use while vacant.
Businesses will also benefit from free health checks and lower rate bills.
Other benefits include tax payment deferrals, capital loans and help with bank loans for business growth.
The funding announcement was welcomed by Sarah McAdam, chief executive of the Commission for Rural Communities.
"Thirty percent of the local authorities receiving these grants will be from rural areas, reflecting the fact that many smaller market towns have been hit hard by shop closures.
"A few store closures in a small town can have a large impact on the appearance and vitality of its high street, which can have important knock on effects for its sustainability as a place.
"We hope that this fund will help support more innovative schemes to help these rural towns recover from the recession and be thriving hubs for their rural populations."
Meanwhile, a Looking after our Town Centres guide sets out ways local councils can encourage attractions to high streets during the downturn.