· Creativity in the Workplace - the most creative workforces
Clone-like city centres and High Streets awash with chain stores are driving firms to rural areas in pursuit of a better environment and more community engagement.
Professional workers are also leaving cities, which could explain a "creativity boom" in the countryside, says the report.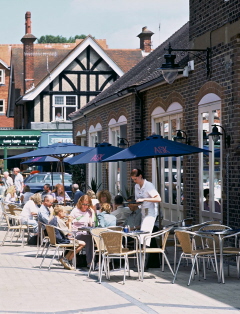 The study - Creativity in the Workplace - was conducted by business analysts Morel Research of
Cornwall College
.
It found the strongest increases in workforce creativity in rural areas such as Cornwall and Clwyd, where young professionals are using communications technology to run their businesses.
"London currently leads the field but it is its financial community rather than its art world that is fostering creativity," says the report.
"Leeds, Birmingham and Manchester currently have some extremely strong localities but when it comes to creative momentum – the likelihood that they will remain creative hot spots in the future - there is a visible flight from cities."
Larger towns and regional centres such as Guildford and Exeter are also sliding down the scale.

But the document explains that creativity is about far more than artists and architects, web designers and TV producers.

It is a key component of everyone's job because the ability to approach business life with inventiveness enhances competitive advantage.

"In an increasingly knowledge-based economy, the ability to think, learn and create gives businesses a key competitive advantage," says the report.
"Creativity is a key component of everyone's job and harnessing it is one of the greatest challenges facing managers in the 21st century."
See also:
• Call for support as rural firms struggle (16 April 2008)
• Rural broadband is unreliable, say firms (15 February 2008)
• Productivity drive targets rural firms (24 October 2007)
• Rural areas are top for business (28 May 2007)