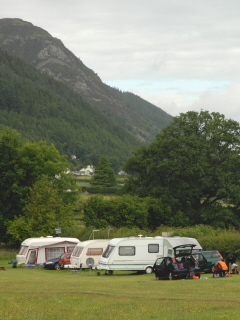 One in three Britons will holiday at home this year, with many of them opting for a rural break, suggests the report.
Cornwall is the number one destination of choice, closely followed by the Lake District and the Yorkshire Dales.
The rural economy is set to benefit as the average person spends £567 on a seven day break.
Researchers scrutinised the holiday plans of 3,300 Britons on behalf of Travelodge.
They expect the number of Brits going abroad to fall from 33% in 2008 to 27% in 2009.
Some 32% of are planning on taking a 'staycation' and holidaying domestically.

Of those holidaying at home, 40% will be taking a seaside holiday - the same as last year.
But the percentage of people staying in the countryside has risen to 24%, up 4% on 2008.
The percentage of people taking a theme park inspired break has reached 18%, an 8% increase on last year
Travelodge managing director Paul Harvey said 2009 was set to be a big year for the British tourism industry.
"With the Met Office predicting glorious weather and a majority of holidaymakers looking to stay at home, this year the resorts and destinations of the UK will be jam packed with British tourists."
But spending is expected to be down as the recession impacts on disposable income.
This year people expect to spend £567 rather than average spend in 2008 of £631.
Holidaymakers expect their biggest expense to be accommodation, with the average spend predicted to be £159.
Other expected outlays are £105 on attractions, £104 on eating out and £94 spent on travel.
"It is also clear that people are looking to have an affordable break, cutting back on how much they are looking to spend when compared to the summer of 2008," warned Mr Harvey.
"Any tourism operators or resorts that are looking to raise prices to cash in on people holidaying domestically are likely to find that visitors choose to stay away."
The top ten UK holiday locations for Britons are: Cornwall, Lake District, Yorkshire Dales, Scottish Highlands & Islands, Edinburgh, London, Isle of Wight, Devon, the Norfolk Broads and South Wales.