UNIVERSITY researchers are examining the impact of the global economic slowdown on businesses located in the English countryside.
• Call for evidence of economic downturn
• Countryside bears brunt of credit crunch
Researchers from Newcastle University's Centre for Rural Economy (CRE) are asking rural businesses to help them assess the impact of the downturn on the region.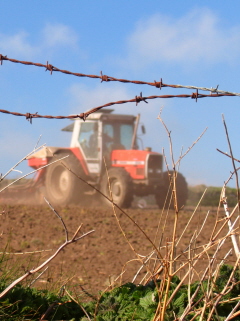 A special survey was launched this week by the Northern Rural Network.
It invites sole traders, start-ups and larger firms, consultants and long-established operations to reveal how how are being affected.
The survey includes a range of questions about issues such as the credit crunch, changes in fuel prices and the impact of the wet summer on business.
It also asks respondents how the planning system is affecting their operations and plans for the future.
The survey comes less than two weeks after Rural Affairs Secretary Hilary Benn asked for evidence on ways the economic downturn is affecting rural communities.
Mr Benn has requested fortnightly updates on the economic situation from the Commission for Rural Communities, which acts as the government's rural watchdog.
Results of the Newcastle survey will inform work to tackle the challenges facing rural businesses and help promote their importance in the wider North East economy.
This survey builds on the success of the first North East Rural Business Survey, which was undertaken by the CRE in 1999, with input from almost 2,000 firms.
It provided a unique insight into the character and resilience of rural businesses, and was particularly important in helping to shape national and regional responses to the 2001 foot-and-mouth crisis.
The Newcastle University research team can be contacted on 0191 222 6460.
                  See also:
                                • Call for evidence of economic downturn (6 November 2008)
                                • Downturn could affect affordable housing (27 October 2008)
                                • Rural residents 'are spenders not savers' (22 October 2008)
                                • Countryside bears brunt of credit crunch (1 October 2008)
                                • Credit crunch 'hits rural areas hardest' (8 August 2008)
                                • Rural life 'better in south-east England' (6 May 2008)
                                • Call for support as rural firms struggle (16 April 2008)
                                • Councils need 'more support for homes' (8 April 2008)