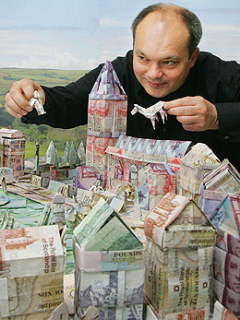 Known as Village Champions, the experts have signed up for Village SOS – a joint initiative from the Big Lottery Fund and the BBC.
The experts have a range of professional backgrounds from marketing, branding and PR to dairy farming, fashion and finance.
They have been matched with the villages whose ideas for local community-run businesses were shortlisted through the Village SOS scheme last month.
The aim of the businesses is to rejuvenate the village communities, create new jobs and improve the quality of local life.
Sir Clive Booth, chairman of the Big Lottery Fund, said: "This is a really exciting stage in the Village SOS process.
"These champions will add a great deal to the villages' business ideas, helping them to strengthen and develop them into robust business proposals."
The champions will help the shortlisted projects to develop their initial ideas into viable plans.
They include Nottinghamshire businessman Chris Fitzpatrick.
He will work with Northumberland villagers to help them develop their idea for the Sustainable Allendale Food and Energy (SAFE) project.
Mr Fitzpatrick made his fortune by growing a multinational adhesives business worth £3.5m from his garage at home.
Meanwhile, Sussex businessman Richard Long will help Ballygally villagers build a shop and community hall in their main street.
Mr Long is managing partner of the Arthur Brown Partnership, a retail news agency and management consultancy firm.
Six of the best projects will be awarded up to £400,000 and the champions will move into the villages for a year to help the businesses get off the ground.
The process will be filmed for a new BBC One series, due to air in 2011.
While most shortlisted villages have now been paired with a champion, for others the match-making process is ongoing.
A lottery spokesman said they were working to put the remaining champions and villages in touch with each other to make a match.