About half of the people who moved to the UK from countries that joined the European Union in 2004 have now left, according to the Institute for Public Policy Research.
Numbers of people arriving from countries such as Poland are falling and greater numbers are leaving, says the IPPR Floodgates or Turnstiles? report.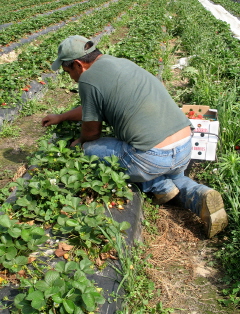 The IPPR estimates that since 2004 just over 1 million migrant workers have come to Britain from the eight Central and Eastern European countries that joined the EU at that time.
Polish nationals - many of whom are employed in the agricultural and tourism industries - are now the single largest foreign national group in the UK.
But around half of these migrant workers have returned home already, said IPPR head of migration research Danny Sriskandarajah, who expects many more to follow suit.
"Our findings challenge the widely-held assumptions that most of those who have arrived are still here, that more will come and most will stay permanently," he said.
"It is a question of when, not if the Great East European migration slows."
The IPPR estimates that about 665,000 people from post-enlargement countries currently live in Britain - a rise of about 550,000 since early 2004.
Even so, the University of Liverpool has been commissioned by the government to assess the extent and type of labour shortages within UK agriculture and horticulture amid mounting concerns from growers.
The National Farmers' Union has warned that government policies restricting the number of migrant workers are threatening to cause a rural labour shortage.
Last month, the NFU launched an online migration and labour shortage survey.
Many farms rely on migrant workers at peak times such as harvest and fears have been compounded by reports last year of fruit and vegetables being left unpicked in fields.
News that the numbers of migrants from countries such as Poland are falling has prompted the Commission for Rural Communities to ask "who will do the work?".
Employment sectors most dependent on migrant workers were often low-waged rural businesses, said a commission spokesman.
They included agriculture, manufacturing, distribution, tourism and the retail sector, he added.
"We're investigating the possibility that some rural communities and businesses could be vulnerable to an economic shock if there was to be a sudden slowdown or even a reversal of the current influx of migrant workers."
See also:
• Rural areas 'coping well with immigration' (23 April 2008)
• Furore over impact of migrant workers (1 April 2008)
• Support migrants, says think-tank (3 December 2007)
• Migration brings challenges - minister (22 November 2007)
• Councils demand £250m for migrants (2 November 2007)
• Watchdog enters fray on immigrants (31 October 2007)
• Migrant workers 'vital' to countryside (22 October 2007)
• Migrants 'put pressure' on rural services (17 September 2007)
• Media charity tackles social exclusion (20 April 2007)