The small business flood recovery scheme is being funded by the South West of England Regional Development Agency.
The landmark £1m was reached as the agency announced a tourism and retail campaign to boost trade in the county as Christmas approaches.
Additional funding from other sources is now being sought after the development agency kick-started the campaign with £300,000.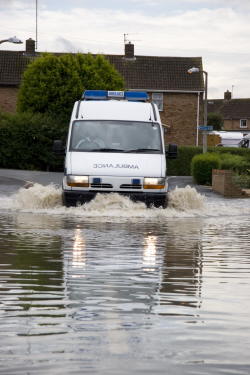 The initial funding is part of the agency's overall package to support businesses recovering from the flooding in the summer.
Highlights of the extended campaign include a Tall Ships festival in Gloucester Docks (26-29 October) and an autumn carnival in Tewkesbury (22-31 October).
Existing events such as the Cheltenham Christmas Market will also be helped.
Chris Foley, the agency's head of operations for Gloucestershire, said businesses in need of support should call the funding helpline on 0845 600 9006.
"After the initial high demand, enquiries are now down to one or two a day and we believe that it is now nearing maximum take-up."
The agency was now looking at how we can help businesses affected by the wider impact of the floods.
The autumn campaign would channel efforts into Gloucestershire's towns and villages through the autumn and the busy run-up to Christmas, said Mr Foley.
Local residents would be encouraged to support shops and day-trip visitors would be targeted from places such as Birmingham, Worcester and South Wales.
The campaign is being implemented by a partnership set up by the agency to co-ordinate support provided for flood-affected businesses.
It includes representatives from Gloucestershire First and Business Link working with Gloucestershire County Council and local district councils.
The small business flood recovery scheme was set up in July, offering grants of £2,500 to businesses directly affected by the floods.
Just over 500 eligible enquiries have been taken from businesses ranging from riding schools to antique shops seeking help.
Business Link advisers have visited 482 firms across Gloucestershire, with the rural sectors among the most strongly represented.