Agricultural and horticultural industries are recruiting more overseas employees to plug vacancies left unfilled by British workers.
Labour shortages this year mean crops have been left unharvested, according to Lantra, the sector skills council for environmental and land-based industries.
The employer-led organisation represents 230,000 businesses and 1.5 million workers in the environmental and land-based sector.
It said the situation was reminiscent of the autumn of 2005, when strawberries had to be flown to the UK from America while British fruit rotted in the fields.
Lantra director Madge Moore said: "Migrant workers are absolutely essential to the current and future prosperity of environmental and land-based businesses.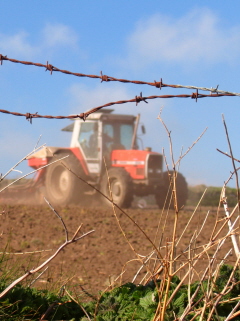 "There are challenges for employers who recruit migrants but we are working across the sector to minimise the problems they face."
One of the largest providers of temporary labour to horticulture and agriculture businesses is HOPs Labour Solutions.
Last month, 12 of its client businesses reported lost income and extra costs which amounted to almost £1.9 million due to insufficient labour supplies.
"The agriculture and horticulture industries have been under pressure to innovate and diversify in order to survive," said James Davis, HOPS general manager.
"The availability of labour from within the European Union has been key to the development and expansion of both of these industries."
Migrant workers contributed £6 billion to economic growth last year, according to a Home Office study published this month.
But high numbers of migrant workers mean in some areas is putting pressure on rural services, a House of Lords committee has been told.
The House of Lords Economic Affairs Committee is investigating the impact of increased migration.
In a submission to the committee, the Commission for Rural Communities said migration was having a big impact on rural employment.
"Jobs that would have in the past been attractive to both low skilled workers and young inexperienced workers are now being taken by migrants from abroad."
The Local Government Association said some local authorities had encouraged migration as a solution to imbalance in the local population and workforce profiles.
But it warned: "Population growth has resulted in some areas in pressures on services, and sometimes in resentment and tensions on the part of host communities."
             See also:                           
                            •
Migrants 'put pressure' on rural services
(17 September 2007)
                           •
Media charity tackles social exclusion
(20 April 2007)