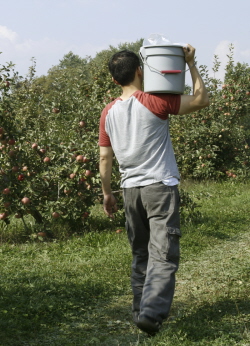 Rural businesses would face significant risks if migration declines, according to research from the
IPPR
think-tank.
Tim Finch, IPPR head of migration, said: "Migrants have made an important contribution to rural economies by filling skills gaps and labour shortages.
"If migration continues to decline, this will pose a real challenge for rural employers."
In recent years, the number of migrants living and/or working in the British countryside has increased rapidly, particularly since the accession of new countries to the EU in 2004.
Researchers found that migrants have made significant economic contributions: filling vacancies and skills gaps, and promoting job creation and productivity.
Their final report, Migration and Rural Economies: Assessing and addressing risks, was published on Wednesday (10 June).
Migrants have been particularly important in supporting some key sectors including agriculture, food processing, and hospitality, says the document.
But migration to the UK is now declining, partly due to the recession.
IPPR s research suggests that the rural economy will be able to recruit sufficient workers in the short term.
But it also finds that a shortage of workers could limit economic recovery in the medium term, particularly in certain sectors.
Graham Russell, executive director at the Commission for Rural Communities, said the contribution made by migrant workers to the countryside was often overlooked.
"Migration is often thought of as an issue for cities, but this research shows that migrants play an important role in rural economies too.
"The economic needs and prospects of rural communities must be taken into account in the government's migration policies."
Economic development planning undertaken by regional development agencies and local authorities should also account for local needs.
The IPPR argues that more needs to be done to ensure rural employers can recruit sufficient workers.
Vacancies were often hard to fill in the hospitality, food processing, agriculture and care sectors.
It was vital that these hard-to-fill jobs remained attractive to migrant workers.