Hazel Blears, Secretary of State for Communities and Local Government, said migrant workers were essential to the success of British business.
But migration also brought challenges, she said in a keynote speech to a national migration conference in London on Thursday (22 November).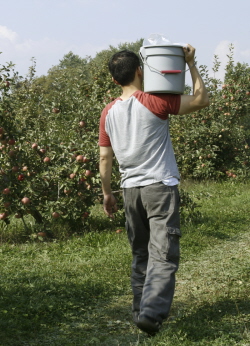 "Migrant workers and the continued supply of young, dynamic and talented people are vital to maintaining the success of the British economy," she told delegates.
"But it is important that we deal with associated challenges that migration can bring."
Up to 100 delegates from the public and voluntary sector gathered for the one-day event which was organised by the East of England Development Agency (EEDA).
Research by the agency in 2005 found that migrant workers contribute about £360m a year to the region's economy.
Ms Blears said: "In rural areas, such as the East of England, migrants play a big role in agriculture, hospitality and tourism."
The conference considered the challenges posed by migration – including language barriers, pressure on services and integration with local communities.
EEDA chairman Richard Ellis said businesses needed migrant workers to survive but often lacked confidence in dealing with issues surrounding recruitment.
A Migrant Gateway package supported by the agency includes a multi-lingual web portal and telephone hotlines for workers and employers.
Mr Ellis said: "The public sector should share resources and learn from exemplar schemes to provide cost-effective services to the whole of the community."
He added: "There is a real danger that if employers can't get the people they need their bottom lines will suffer."
This meant providing the right information and advice for migrant workers to ensure that they knew the rules and regulations.
"This applies equally to British employers so they can find suitable employees, know what their responsibilities and which will help build their confidence."
See also:
•
Councils demand £250m for migrants
(2 November 2007)
•
Watchdog enters fray on immigrants
(31 October 2007)
•
Migrant workers 'vital' to countryside
(22 October 2007)
•
Migrants 'put pressure' on rural services
(17 September 2007)
•
Media charity tackles social exclusion
(20 April 2007)