The £1m micro-enterprise fund helps rural businesses in North East England to start up, grow and diversify.
Part of the Rural Development Programme for England (RDPE), it has now committed more than £568,000 for projects by 185 different customers since its launch in May.
Funding helps rural micro-enterprises with start-up revenue, capital investment costs, technical and marketing support, product development, branding and design.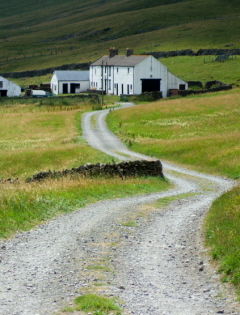 The fund is just one part of the RDPE support being managed by regional development agency One North East.
Rural business owner and the agency's rural board member, Ian Brown, said: "We're delighted that the micro-enterprise fund has passed this milestone.
"At a time when accessing finance is difficult for any business, this funding is a way for farms and small rural firms to get the support they need to take forward plans for growth or diversification in this tough economic climate.
"We've already seen some fantastic projects winning support, and we look forward to seeing many more being approved in the next six months."
Hownsgill Farm near Consett was among the first businesses to win support from the micro-enterprise fund.
Brothers John and Stephen Shaw used their grant to help create a new tearoom, complementing a bunkhouse which has already been developed in a former milking parlour.
They hope it will help pull in even more passing walkers and cyclists from the coast-to-coast footpath route.
John said: "Our location has helped attract plenty of guests to the bunkhouse, which is doing really well.
"There's already a lot of interest in the tearoom as we're putting the finishing touches in, and we're also looking at how we can diversify our operations even further in future – potentially offering static caravan accommodation."
The micro-enterprise funding is available through the North East England Investment Centre (NEEIC).
It works to help emerging and existing companies to develop and grow by investing public funds in those entering into business development projects, using external suppliers.
The NEEIC is now 18 months old and, throughout that time, has constantly evolved to bring improvements to its customers.
It has launched an online application facility and is adding value for businesses of all sizes and from all sectors across the region.
The NEEIC now aims to make decisions on all completed applications and claim submissions within five working days of receipt.
Applications are assessed on the contribution they make to improving the economic prosperity of the region.
NEEIC programme manager Carol Kerr said: "Rural enterprise is a vital part of the region's economy and its development is key to the ongoing prosperity of the region.

"All rural businesses are eligible to apply for NEEIC support and the fast, simple service we provide is designed to make the funding process accessible and effective."
For more information regarding RDPE funding, call Business Link on 0845 600 9 006.