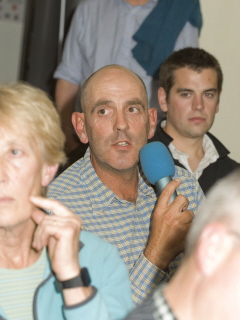 The first public forum held by Northumberland National Park Authority took place at the Cheviot Centre, Wooler, on Thursday (15 October).
It heard strong calls for action on education, climate change and the local economy.
The forum brought together local residents and public bodies from across north-east England.
The national park, which covers 20% of Northumberland, has taken on the role of advocate for the county's upland rural communities.
Forum moderator and Northumberland county councillor Peter Jackson said climate change, tourism and the vigour of rural communities were all topics for discussion.
Martin Howatt, uplands director at Natural England, told the forum more effort was needed to explain the value of upland areas to the public.
Doing so would help to gain acceptance for the idea that these social benefits would need to be maintained with public money, he argued.
Few people, for example, realised that 70% of the country's drinking water was sourced in national parks, said Mr Howatt.
Mark Carr, from the Alnwick School Partnership, said children were key to raising awareness about the value of protected upland landscapes.
By engaging youngsters, park bosses were more likely to appeal to the adults. The national park should have an education centre, he added.
The learning theme was echoed by Rachel Ellis-Jones of Northumberland College who said that learning should continue at all ages.
Rural skills should being taught in the national park to ensure that people would continue to be able to live and work in the countryside.
But rural people also needed somewhere to live.
The last affordable housing was built in the park in 1980, said Terry Carroll, from the Centre for Rural Economy at Newcastle University.
If rural communities were to survive and thrive, planning policy and infrastructure should encourage inward migration of young families.
Issues around tourism and the encouragement of visitors to the remote countryside were also hotly debated.
Some forum delegates said the uniqueness of the area was its emptiness – which should be preserved at all costs.
But others called for better facilities for visitors, including improved access and services including broadband.
Angus Collingwood-Cameron, of the Country Land and Business Association, said the discussion highlighted the complexity of rural issues.
He called for support in getting better access for rural communities to both the countryside for tourism and to broadband services for business.
Local resident Nick Bergen backed the call for better broadband and affordable housing.
Encouraging better public transport was also an important role for the national park to support the local economy, he added.
Northumberland National Park Authority will use the issues raised at the forum to help set its priorities setting for the next year.
Points are being addressed in a management plan action plan which is under development.
The authority said it was keen to continue the discussion online at www.northumberlandnationalpark.org.uk.