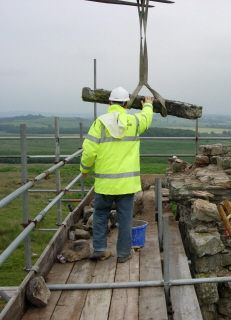 The situation is so bad that some rural communities have already become unsustainable, according to a new policy paper.
Published by the Country Land and Business Association, the document calls on the government to fix Britain's failing planning system.
The current planning system acts as a brake on "appropriate and much-needed development in the countryside" it says.
Restrictions to economic development in the countryside are too often imposed in the misplaced belief that this supports communities and the environment, it adds.
CLA president William Worsley called on the new government to make the planning system flexible and transparent.
"Any planning system that restricts economic development could fail the communities and environment it intended to support.
"The government needs to recognise this and approach the planning system in a new way."
The cost of making planning proposals must be proportionate to the size of the development, said Mr Worsley.
"We need a planning system that's fit for the 21st century, allowing rural communities to live and work.
"Stable and flexible planning would deliver quicker and less expensive decisions while taking a balanced approach to sustainable development."
This could include promoting a mixture of development in rural areas, as well as providing employment sites, housing, transport, public and private services.
"It also involves working with land managers on conserving and enhancing our natural environment and mitigating climate change," said Mr Worsley.
Rural housing policy should promote the organic, incremental growth of all villages, he added.
At the same time, heritage policy should allow modernisation of buildings without harming their historic or architectural significance.
"Draconian planning regulations and rural policy vacuum are throttling the sustainability of rural communities and driving young people into towns and cities.
"We are asking government to loosen the grip on planning to give the countryside a chance to thrive."