Delivered by Cumbria Rural Enterprise Agency (CREA), the Cumbria Rural Planning Facilitation Service won the Royal Town Planning Institute Rural Areas and the Natural Environment Award.
The award recognises the service's approach to helping businesses to negotiate planning laws and processes affecting rural development.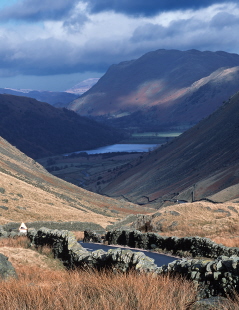 "This scheme has proved an easily deliverable, value for money, transferable tool for supporting sustainable development in rural areas," said RTPI president Martin Willey.
"As a successful experiment in mediation in planning, it could well provide a model for similar schemes elsewhere."
Delegates from Cumbria travelled to London to accept the award on Thursday (5 February).
Lynne Fox, CREA business support and planning manager, said the programme offered advice to businesses before they submit a planning application for a development.
"Our network of planning experts highlights the potential pitfalls as well as the strengths of an idea."
The service meant business owners had free access before they approached the authorities so they were aware in advance of any planning issues.
The Rural Planning Facilitation Service (RPFS) was initiated after the need for planning support service in rural areas was put to then Prime Minister Tony Blair by the North-West Regional Development Agency in the spring of 2000.
CREA managed the pilot schemes in Cumbria and Lancashire while the NWDA funded the pilot and then roll-out of the initiative across three counties.
CREA president John Dunning said planning provided important controls but could sometimes be a barrier to rural diversification.
"The RPFS has had an impressive impact in enabling and encouraging rural businesses to meet the challenges of growth while meeting the valid requirements of our landscape and contributing to improvement in the built environment."
Since the pilot, RPFS has acted as a mediation service for rural development with almost 1200 businesses across rural Cumbria as well as more than 500 in Lancashire and over 200 in Cheshire.
Today, CREA provides the mediation between rural businesses and local authorities across rural north-west England.

RPFS advisers are experienced planning officers and consultants who deliver free advice to small businesses contemplating an initiative that may require planning consent.
Local planning authorities have welcomed the scheme because it ensures only well-prepared proposals are brought forward.

CREA chief executive Bob Clark said the RPFS offered a vital service to small rural businesses that were keen to grow and develop despite the economic downturn.
"Small businesses in rural Cumbria are still keen to grow and develop but they need the support of schemes like this to make sure that any money they spend has the highest return possible, as soon as possible."
Case studies of businesses that have benefited can be found online at www.crea.co.uk.