A £120,000 project will see six broadband aerials installed across Exmoor and the wider countryside, including remote areas around Lynton and Lynmouth.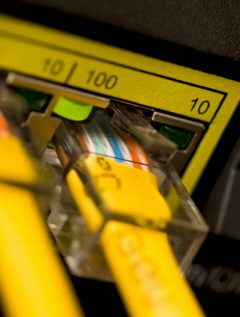 Some 100 rural businesses are expected to benefit from the initiative, with each aerial will serving a 15 mile radius.
Until now, broadband provision has been unreliable due to the rural location of settlements, cabling issues and distance from exchanges.
Some remote rural businesses in the county have had no broadband connections at all.
People taking advantage of the new system will need to install receiver dishes on their properties or businesses to access much improved data speeds.
The South West of England Development Agency, which is investing £90,000 in the project, said the aim was to provide business users with reliable broadband.
Carl Budden, the agency's head of regeneration for Devon and Somerset, said the scheme would help unlock business potential.
"We have been working closely with partners to develop an innovative solution to the connectivity issues in North Devon and we hope this investment will help address the concerns of local businesses."
The investment was welcomed by Janet Kennedy, economy and regeneration project officer for North Devon District Council.
The local authority is leading on the initiative and will finance the remainder of the investment, together with a contribution from West Somerset District Council.
"I have spoken to many local business owners who are unable to use the internet for web-based sales and marketing purely because they live in the countryside," said Ms Kennedy.
"This technology provides a great opportunity for rural companies to be able to develop their businesses on a level playing field without being penalised because of where they live or run their business."
Increasing innovation and take up of information communication technology is a key objective behind the project.
It is hoped the initiative will lead to an increase in the start-up rate for small and medium size businesses.
A recent study by Devon Renaissance found that the quality of broadband in rural communities was a major barrier to business growth.
North Devon District Council will now appoint an operator to carry out the work with a view to the first businesses being connected in the spring.
See also:
• Rural technology 'worse than India' (27 December 2007)
• Rural residents pay more for broadband (14 December 2007)
• Accolade for rural broadband project (21 November 2007)
• Lib-Dems unveil rural manifesto (1 July 2007)
• Rural broadband 'not up to speed' (30 June 2007)