Firms based are having to pay for the full cost of broadband when sometimes less than half the advertised connection speed is available, according to the Country Land and Business Association.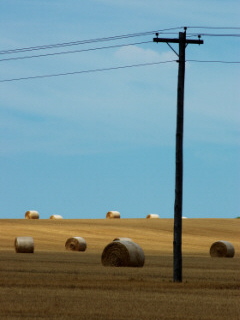 The organisation is now calling for high level talks to level the playing field between rural and urban enterprise.
Rural businesses could not survive without a competitive broadband service and would either relocate to urban areas or cease to trade, said CLA president Henry Aubrey-Fletcher.
"The CLA was the only national organisation to campaign for BT to roll out broadband coverage to rural areas.
"We succeeded - and it is no exaggeration to say that without our pressure, rural areas would not enjoy the levels of broadband coverage they do today."
But broadband services still did not meet the demands of modern businesses, said Mr Aubrey-Fletcher.
The organisation had found that:
•

Rural customer service is poor, particularly when the call centre fails to understand the problems involved;


•

Communication between Internet Service Providers and customers is in some cases non-existent;


•

There remains little genuine competition in the rural broadband market.


•

Rural businesses have been unable to piggy-back on to public sector broadband availability despite assurances they would be able to do so.
There were still some rural areas in Yorkshire that could not access ADSL broadband, said Mr Aubrey-Fletcher.
"In 2008 that is wholly unacceptable. The digital divide is getting wider and it seems the promises from BT and others are proving as fickle as the technology itself."
The CLA was now calling on the broadband industry - and BT in particular - to deliver on promises to provide a service available to everybody and fit for the 21st century.
"While we kept the issue on the politician's screens and in the media, BT and others were only too happy to talk to us - and even benefited from our campaign.
"It seems that, now that the fuss has died down, they really have turned their back on rural Britain. They are letting their rural customers down and they must redress this imbalance."
See also:
•
Remote firms finally get broadband
(22 January 2008)

•
Rural technology 'worse than India'
(27 December 2007)

•
Rural residents pay more for broadband
(14 December 2007)

•
Accolade for rural broadband project
(21 November 2007)

•
Lib-Dems unveil rural manifesto
(1 July 2007)
•
Rural broadband 'not up to speed'
(30 June 2007)