Courtyards at Burton Manor College have been transformed to house new "start-up" businesses for the rural artisan craft industry.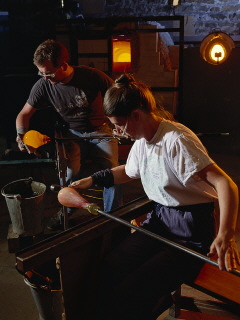 The Atelier development has been funded by the
University of Chester
and the
North West Regional Development Agency
.
The agency contributed £249,000 through the £10.1million Cheshire Rural Recovery Programme.
It hopes the centre will encourage people to set up in rural business, while providing them with a market place to sell their goods.
Peter White, the agency's executive director of development, said he hoped talented entrepreneurs would be helped along the road to success.
"It is vital that entrepreneurs can access the support they need to start new sustainable businesses in the north-west."
Mr White added: "This innovative project will improve lifelong learning and will be an exciting new addition to Cheshire's cultural and retail offer."
Dedicated to promoting local artists and craft workers, the development offers access to business support and educational opportunities.
It also provides classes and short courses, encouraging visitors of all ages to explore their creative potential and try their hand at contemporary and traditional arts.
Chester University vice-chancellor Tim Wheeler said he hoped artisans would be able to nurture their creative visions and enable them to become a reality.
Located at the site is a dedicated Business Centre, incorporating an IT suite which supports local companies and promotes entrepreneurship.
The centre also provides administrative support and internet access to the local community, tourists and visitors.