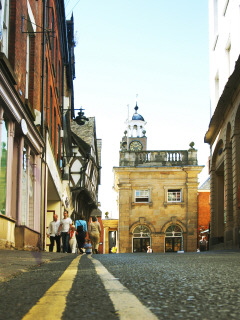 More than 80% of rural firms are seeing costs rise with 46% experiencing a decrease in trade, said the Federation of Small Businesses (FSB).
It wants Chancellor Alastair Darling to use his budget on Wednesday (22 April) to introduce a rate relief scheme for rural businesses.
Nearly one in three respondents to a poll of over 300 FSB rural and tourism members said the next six months would be difficult for their business.
Small firms were crucial for the survival of village communities and the death of one small firm could have a devastating impact, the FSB said.
But rural businesses were suffering in silence while media attention focused on mass redundancies and big business closures, it warned.
FSB rural affairs chairman Linda Walton called for government help so rural firms could weather the downturn.
"Rural businesses have been quietly suffering during these testing times just as much as big, city businesses – but behind the dramatic headlines of big business failures.
"These figures prove that the collapse of one small firm in a small town or village can have a devastating impact on the entire community.
"With one in three small firms in rural areas concerned about their financial prospects over the next six months, the government must take action to keep the heart of the village community alive."
Ms Walton said a Treasury top-up of the non-domestic rates pool would enable local authorities to give 100% rate relief to small rural businesses across England.
Ms Walton said: "The rural recession rate relief scheme we are putting forward could be the difference between the death of small rural communities or their survival."
The scheme would run for 12 months. The government would then review the initiative based on the economic situation and assess whether it should be extended.
A 50% mandatory rural rate relief already exists for some village businesses with local authorities having the discretion to grant up to 100 per cent relief.
But local government financial constraints mean many councils fail to offer significant relief above 50%.
Businesses which qualify for 50% rate relief in rural areas with a population of 3,000 or less include:
Sole Post Offices/ General Stores – with a rateable value of up to £7,000
Sole food shops – with a rateable value of up to £7,000
Sole pubs/ petrol stations – with a rateable value of up to £10,500
The FSB is also calling for business rate relief to be made automatic.
Over £400 million goes unclaimed every year because small firms are unaware they are entitled to rate relief, said Ms Walton.
The rural recession rate relief scheme and automatic rate relief campaign is part of the FSB's Keep Trade Local campaign to preserve local services and businesses.
Pollsters carried out the FSB survey between 27 March and 1 April 2009.