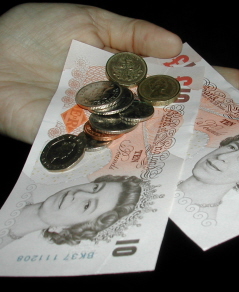 The number of jobless in England and Wales climbed by 64% in the 24 months to December 2009.
Unemployment for England and Wales as a whole rose by 52% over the same period, suggesting rural areas are bearing the brunt of the recession.
At the end of 2009, there were an estimated 299,000 unemployed people in rural areas, compared to 228,000 at the end of 2008 and 182,000 at the end of 2007.
The estimates are derived from the Labour Force Survey (LFS).
The figures were obtained through a parliamentary written question tabled by shadow rural affairs minister Jim Paice.
Commenting on the findings, shadow rural affairs secretary Nick Herbert accused Labour of ignoring the plight of the countryside.
"Gordon Brown's recession has hit rural areas hard and the loss of jobs in our villages and market towns is having a devastating effect.
"Labour has ignored the countryside and their jobs tax will kill the recovery and particularly hit the small and medium-sized businesses on which the rural economy depends."
Mr Herbert claimed that seven out of ten working people would be better off under a Conservative government.
Barriers to gaining employment in rural areas include inadequate public transport, according to the Commission for Rural Communities.
Other barriers include less training and guidance provision, according to the commission's Rural Advocate Report 2010.
"Government approved training schemes, accessed largely through Job Centre Plus, are not a viable option in rural areas," it said.
The number of rural job centres has fallen by 18%, according to the commission's 2008 State of the Countryside Report.
The Labour Party said it was supporting strong rural communities by tackling unemployment, expanding rural economic opportunity and safeguarding rural public services.
The Rural Development Programme for England was delivering £3.9 billion to support rural economies, it added.