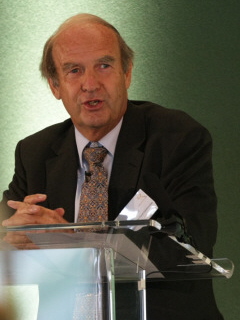 Stuart Burgess, chairman of the Commission for Rural Communities, said "signs of hope" were emerging from the recession in rural areas.
Although many people faced economic challenges and genuine hardship, there were also reasons to be positive, he said.
Dr Burgess was speaking on the first day of the National Association of Local Councils annual conference in London on Friday (4 September).
His full speech can be downloaded here (92kb pdf).
"While we know things are going to be tough - we know it will be a hard few years for businesses and for communities - the debilitating uncertainty has faded."
An inspiring sense of energy and entrepreneurship meant there were reasons to be positive about the economic future of rural areas.
Growth in small and micro businesses had been much higher in rural than in the rest of the country, said Dr Burgess.
Rural areas also had higher levels of female entrepreneurs
And rural businesses were more likely to export to international markets when compared to their urban counterparts.
"We are also seeing signs of hope in emerging from the recession," Dr Burgess told conference delegates.
"The sparsest rural areas have been the first areas where more people are finding work than registering as unemployed."
Stakeholders and policymakers should use the recovery to think more widely about the way they viewed economic development.
Economic well-being was the power under which much local authority economic intervention and activity was based, Dr Burgess added.
It encompassed economic growth - jobs, new firms, business expansion, increasing investment - and embraced many communities and activities.
"We are promoting it as more in tune with the dynamics and intimacy of rural households, work-life balance, and communities," said Dr Burgess.
"I believe it is more aligned to the message that only local authorities and agencies can truly understand [the] diversity and dynamics of local areas and determine necessary interventions."
Local authorities had the power to take steps to promote the economic, social and environmental well-being of their area or their inhabitants.
They also had a statutory duty to prepare community strategies to promote well-being, provided by the Local Government Act 2000.
"The well-being power could potentially provide the statutory backing required to take forward your projects," said Dr Burgess.