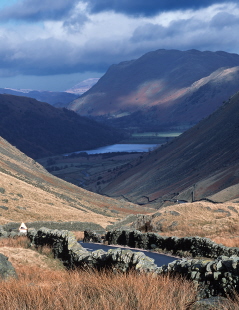 The Cumbria Fells and Dales Rural Development Programme was unveiled at Rheged, Penrith, on Monday (23 February).

Aimed at stimulating rural economies and communities, it is part of the Rural Development Programme for England (RDPE).
The initiative is jointly funded by the EU and the UK government.

It is being delivered by Cumbria County Council on behalf of the Northwest Regional Development Agency (NWDA) and Defra.

Tim Knowles, the council's cabinet member for economic development, said the aim was to support rural businesses that helped to sustain the Cumbrian landscape.
Cumbria Fells and Dales is delivered by a local action group made up of representatives from businesses, public agencies and local community bodies.
Chairman Douglas Chalmers said the action group wanted to support projects that delivered the best value in terms of economic development and local need.
"There are many indications that their rural enterprise can make significant contributions to the country's recovery, and we now offer them the opportunity to make vital investments in their businesses."
The programme is aimed at assisting:
Farmers, farming families and foresters
Local farming organisations such as cooperative groups
Rural businesses
Local voluntary organisations and community groups
Market town partnerships and community planning group
David Hunter, NWDA head of rural development, said the agency was working with partners to drive the growth of the rural economy across the north-west region.
"The Cumbria Fells and Dales Programme will provide vital business support that will help to encourage diversification."
It would improve the competitiveness of rural businesses, helping to secure a sustainable and vibrant future for the local economy, Mr Hunter added.