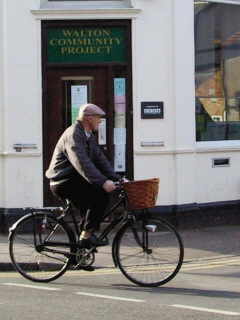 Market towns have seen steeper rises in unemployment than the national average, said the
Commission for Rural Communities
.
Jobless figures rose 120% compared to 90% for England as a whole to May 2009, warned the rural watchdog.
The figures are contained in the commission's latest report examining the effects of the recession on the countryside.
Details of the document can be found by clicking here.
Among the hardest hit are middle class and professional groups with greater links to urban economies, it says.
Towns with high levels of young families and those working in the administrative sector in middle England are also suffering.
The number of vacant shop units in market towns has increased, with 60% of existing vacant retail premises remaining empty over the last six months.
"This damages both the look and economic vitality of town centres," says the report.
Although local partnerships and councils have taken action to address these issues, changes in funding priorities mean town centre managers have decreased in number.
"It is not clear how well good and effective practice is being shared nationally or regionally," the document says.
Despite need for additional support for market towns, details of a government initiative to revitalise town centres have not yet been released.
The Town Centre Initiative Fund was announced in April 2009. But it has not yet been activated.
"We urge government to ensure that market towns and larger rural villages are eligible to apply, and that details of funding are made public and funds released as a matter of urgency," says the report.
Better access to government business and economic support funds is also needed to help market towns meet growing retail challenges.
Local authorities should examine ways of encourage change of use for empty retail space in less viable locations that has either community or business benefits.
Regional development agencies should look to follow the example of Advantage West Midlands and work to support hard-hit market towns in their regions.
The government should also ensure that the economic balance of market towns is a "material consideration" when planners consider applications for out-of-town retail developments.
New ways must be found to give rural people and market towns better access to support for job seeking and training, the report adds.