A combination of training and tax reform could helpt to soothe migration worries, according to a report from the New Local Government Network.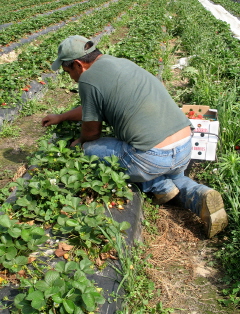 The network is an independent think tank seeking to transform public services, revitalise local political leadership and empower local communities.
Funding for local authorities should be reformed to support areas of significant migrant labour, says the NLGN report.
At the same time, greater training and support should be offered to long-standing residents who are unemployed or disadvantaged.
The document, Managing New Migration, is due to be launched on Monday (3 December).
It advocates rewarding areas that increase levels of employment by devolving a section of the starting rate of income tax directly to councils.
Author Matthew Clifton argues that this would act as a financial incentive for councils to help local services adapt to local population shifts.
"Substituting crude local authority grant with an immediate share of tax take and revenue could better relieve pressure on services and budgets while reacting positively to local population growth.
The share of income tax is particularly powerful and requires no change in the national tax regime, nor does it require the introduction of any new local tax.
"But a local assignment of income tax does create an automatic mechanism to reward local growth and create an incentive to improve local service management".
People dubbed NEETs – those not in education, employment or training – should receive more support from local authorities and their local strategic partners.
The report suggests offering long-term unemployed people guaranteed interviews for relevant local jobs, and mobility and clothing allowances to help attend interviews.
This greater emphasis should help to mitigate any influx of migrant workers, said Mr Clifton.
"Though new migrants are taking jobs where there are vacancies, there may be some displacement effects experienced by established communities.
"Local action should target a generation of disadvantaged people, neglected by today's global jobs market and unable to participate in Britain's growing economy."
The report also suggests using more localised information to improve the accuracy of estimates when measuring the number of migrants in local communities.
See also:
•
Migration brings challenges - minister
(22 November 2007)
•
Councils demand £250m for migrants
(2 November 2007)
•
Watchdog enters fray on immigrants
(31 October 2007)
•
Migrant workers 'vital' to countryside
(22 October 2007)
•
Migrants 'put pressure' on rural services
(17 September 2007)
•
Media charity tackles social exclusion
(20 April 2007)