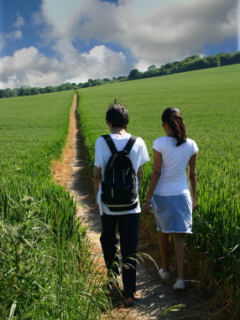 Some 90% of parents believe children should have more outdoor learning opportunities, reveals a report by the Countryside Alliance Foundation.
Teachers too have a strong desire for outdoor learning, it says. But concerns about health and safety can limit children's access to the countryside.
Three quarters of teachers say health and safety is the main barrier to school visits.
Some 364 legal claims were made between 1998 and 2008 for injuries sustained by children, with under half resulting in payouts.
On average, £293 of compensation was paid out each year by local authorities.
The report, Outdoor education – the countryside as a classroom, has been sent to all schools in England and Wales.
A full copy can be downloaded here.
Foundation director Robert Gray said the report made a convincing case for outdoor education to be included in the National Curriculum.
"Teachers and children all want more access to the countryside through school and that well managed outdoor learning poses virtually no risk."
The report was welcomed by Natural England, the government's landscape agency, lawyers and other bodies.
Natural England chief executive Helen Phillips described the document as a helpful contribution to an important debate.
"Contact with nature has halved in a generation and the overwhelming majority of children now want more opportunities to play outdoors," she said.
Children had a right to explore the rural environment, said Dr Phillips.
"We need to do all we can to encourage outdoor learning and create opportunities for children to enjoy and appreciate the countryside."
The Association of Personal Injury Lawyers said the debate about outdoor education was too often distorted by irrational fears of litigation.
Outdoor learning could enhance children's education without causing needless injuries, said chief executive Denise Kitchener.
"Teachers need to understand that there is nothing to fear from sensible risk assessments," she added.
The Field Studies Council said the report would help to draw attention to the importance of outdoor learning and ways of reversing its decline.