A rise in fuel duty of 2p per litre, due to start this April, has been postponed until the autumn, said Chancellor Alistair Darling in his Budget speech on Wednesday (12 March).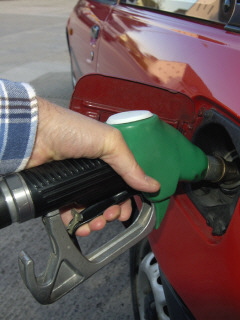 The
Federation of Petroleum Suppliers
(FPS), which campaigns on behalf of small independent forecourt garages, welcomed the postponement.
But it warned that the move had not solved problems created by duty rises for independent forecourts., it had merely delayed them until the autumn.
There will be another rise of 0.5p per litre in real terms from 2010.
One of the consequences of duty increases was to put more pressure on rapidly dwindling numbers of rural forecourts, said FPS spokesman Mark Brasdshaw.
"The duty rise will increase cashflow difficulties and often result in the forecourt being unable to afford to fill the storage tanks completely,"
"High oil prices combined with low volume throughput at many sites means they cannot take advantage of the lower costs of full load deliveries of fuel."
Some rural diesel prices have already reached 120p per litre.
The federation was now preparing a paper to present to Treasury officials to try to get more support for independent retail sites, said Mr Bradshaw.
Grant aid to help independent retailers modernise and remain in business was already available to rural sites in Scotland
But a similar scheme had yet to be introduced in the rest of the UK.
The Countryside Alliance said a rise in fuel duty would be unfair on rural motorists who relied on private cars in the absence of public transport.
"We need a clear tax policy that does not discriminate against road users in rural communities," said alliance chief executive Simon Hart.
"Hiking already high taxes will have an adverse effect on rural communities who have poor public transport services and therefore rely heavily on private car use.
"The government should recognise that many low-income families may soon be stranded, unable to afford to run a car."
Many rural residents already faced long trips to their nearest doctors' surgery or dentist because local services had closed, said Mr Hart.
"Making those journeys even more expensive just increases the unfairness. Rural people are not after special favours, but they deserve a level playing field.
"The chancellor must create a tax policy that addresses the problem of poverty in the countryside, not compounds them."
See also:
•
Budget 2008: Reaction at a glance
(13 March 2008)

•
Budget 2008: More affordable homes
(12 March 2008)

•
Will the Budget benefit rural communities?
(11 March 2008)
•
Rural diesel price soars to 120p/litre
(2 January 2008)
•
Rural roads 'worst for accidents'
(19 November 2007)
•
Councillor demands rural road rethink
(18 October 2007)

•
Campaign to cut rural road deaths
(4 October 2007)

•
Call to remove rural road signs
(4 September 2007)
•
Slow-down plea to rural drivers
(13 May 2007)