Enough surplus public sector land had been identified to build 70,000 new homes, said the Chancellor in his Budget statement on Wednesday (12 March).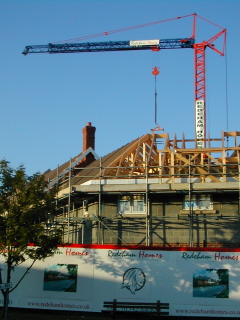 "We will spend £8 billion on new, affordable and social housing over the next three years," he told MPs.
"This will enable the Housing Corporation to deliver 70,000 new affordable homes each year by 2010/11."
From April, key workers – such as teachers and nurses – and first time buyers would be able to borrow money from new-shared equity schemes, said Mr Darling.

"Until now these were only available to those who could afford three quarters of the price of their new home. I am now extending the scheme to help those able to afford half of the price of their new home.
"And I can also announce that from today, stamp duty on shared ownership homes will not be required until buyers own 80 per cent of the equity in their home."
The bulding programme will take the government a considerable way towards meeting its commitment to deliver 200,000 new homes on surplus public sector land by 2016.
But it is not yet known where the homes will be built and many are likely to be on brownfield urban sites.
The Department of Communities and Local Government is expected to announce further details of the sites shortly.
Meanwhile, Mr Darling said work would continue to identify further sites and speed up the release of surplus government land for housing.
The government was also developing a new approach to the use of surplus land owned by local government.
This would include a more active role for local authorities in housing development.
See also:
• Budget 2008: Reaction at a glance (13 March 2008)
• Budget 2008: Fuel duty rise postponed (12 March 2008)
• Will the Budget benefit rural communities? (11 March 2008)
• Spending review ignores rural affairs (9 October 2007)
• Chancellor to unveil spending plans (8 October 2007)
• PM Brown says homes are priority (27 June 2007)