· MPs endorse call for urgent rural action
· Sustaining Rural Communities: A call for action
· Analysis: Taking on the Call for Action locally
The Rural Services Network – a coalition of local authorities and other public service providers – said action was needed to sustain fragile countryside communities.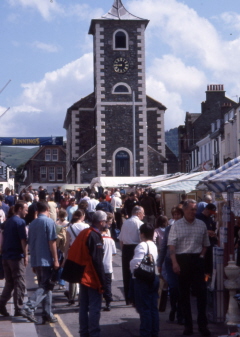 Its call came as the group published a new report following the biggest ever consultation exercise of rural interest groups.
Many rural communities face significant challenges in attaining the quality of life that the government aspires to deliver for the country as a whole, says the document.
Graham Biggs, the network's chief officer, said the government consistently failed to do enough to protect the needs of people living in rural areas.
"It has broken its pledge that nobody should be disadvantaged because of where they live.
"We hope that our report will serve as a wake-up call that rural citizens are not prepared to be treated as second class."
The report, called Sustaining Rural Communities - a call for action, was handed to the Department of Communities and Local Government on Monday (3 March).
It presses the government on a range of rural issues including affordable housing, sustainable development providing training for rural youngsters.
Key demands include:
a commitment from the Prime Minister to assume responsibility for, and act swiftly on, the findings of the Taylor Review into affordable rural housing;
a fundamental review of the way that the planning system, including the Planning Inspectorate, applies the test of sustainability in rural areas;
recognition of the additional cost of providing services in rural areas through the distribution of public funds for the provision of services;
a high level commitment across government to sustaining balanced and vibrant rural communities, which are stable for everyone over the long-term.
Mr Biggs said: "It is unsustainable and iniquitous for people living in rural areas to pay more in council tax whilst receiving less by way of services.
"More than that, as many people look to move from urban areas to rural ones, it is fundamental that the infrastructure is put in place to allow new and existing rural communities to thrive."
See also
• Pathfinders lead way to better services (3 March 2008)
• Tory leader speaks out on rural services (25 February 2008)
• Online petitions 'would improve services (4 February 2008)
• Communities to help boost services (25 January 2008)