· David Cameron - speech to the Campaign to Protect Rural England
Under Labour, rural areas had suffered 10 years of closures, with post offices, libraries, police station, small shops, schools and GP surgeries all under threat.
"For the last decade or so, in the name of modernisation, rationalisation and efficiency we have been living under a regime of government by management consultant and policy by powerpoint."
The result had been an explosion of bureaucracy, cost and irritation, endless upheavals and pointless reorganisations, Mr Cameron told the Campaign to Protect Rural England.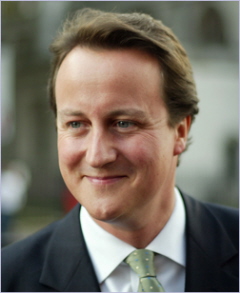 "Over the past decade, our public services have suffered an almost permanent assault through wave after wave of top-down reorganisations."
Such a "big-is-beautiful" approach had resulted in the closure of small local services and their reorganisation into larger, more distant units.
"That's what has happened with Post Offices, with maternity services, with A&E - and now it's the small, local GP surgeries that are next."
Mr Cameron said reorganisation had been done in the name of efficiency, in order to give taxpayers value for money.
But he added: "They do not deliver taxpayer value, because they destroy social value."
A Conservative government would give local people more say in decision-making, suggested Mr Cameron.
"Active citizenship and local community organisations are the most effective means of providing social support," he said.
Small shops, for example, should be considered to compete with larger chains not just on price or the range of goods offered, but also on their social value.
"Taken together with our renewed emphasis on localism - more powers for local government and greater rights for local communities to decide for themselves on issues that affect them - the countryside will be immeasurably strengthened."
See also:
• Tory leader speaks out on rural services (25 February 2008)
• Tories lambast Defra's performance (5 December 2007)
• Tory blueprint 'to rebuild rural trust' (13 September 2007)
• Tories to launch rural policy review (13 June 2007)