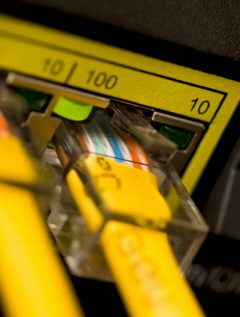 But people in the countryside still face a longer wait than city residents for faster internet connections.
The pledge for superfast broadband is contained in a coalition agreement published on Thursday (20 May).
The document outlines the government's programme following talks between the Conservative Party and the Liberal Democrats.
It covers key policy areas including political reform, public health, schools and education, tackling the deficit and reform of the banking system.
The full 34-page document can be downloaded here.
On broadband, it says: "We will introduce measures to ensure the rapid roll-out of superfast broadband across the country."
The document pledges to ensure that BT and other infrastructure providers allow the use of their assets to deliver superfast connections.
And it adds: "We will seek to introduce superfast broadband in remote areas at the same time as in more populated areas."
The pledge came as business leaders warned that broadband should be a universal service obligation.
Doing so would help small firms grow and strengthen recovery, said the Federation of Small Businesses (FSB).
The government had recognised the importance of tackling the lack of broadband for small businesses and customers.
But small businesses were unable to trade online as efficiently as they could because of a lack of fast and reliable broadband.
Many rural firms are not getting the service promised by their service provider, suggests an FSB report.
The document, Broadband: Steps for an Incoming Government, can be downloaded here (165Kb pdf).
Nearly a third of small firms were offered 2-4Mbps but 94% said broadband speeds were lower than advertised claims.
"The lack of broadband is unacceptable in the 21st century," said FSB chairman John Walker.
"The UK is lagging behind and as a result small businesses – especially in rural areas - cannot develop their business online."
Putting in place super-fast broadband could create 60,000 jobs and add £18 billion to UK GDP, the FSB report claims.
"Small firms are being misled by their service providers which are promising broadband speeds that they are simply not delivering.
"Broadband is not a luxury but an essential service."