Shropshire County Council
Cabinet members voted not to proceed to consultation on the proposed closure of 22 schools. But consultations on the proposed amalgamation of 16 schools will go ahead.
The decision followed a
national campaign against village school closures
.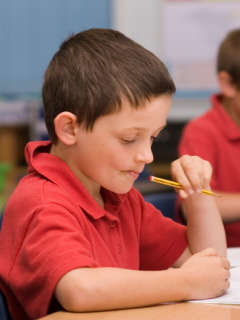 Liz Nicholson, the council's corporate director of children and young people's services, described the implications of falling pupil numbers in Shropshire during a cabinet meeting on Wednesday (30 January).
She told the meeting about the financial consequences facing the county's schools, and the impact on the educational provision for local children.
Councillors heard that if nothing was done, budgets would be cut by an average of £20,000 per school between 2009 and 2011, which would result in reductions in teacher numbers in all primary schools.
Members of the public - including school governors and parents - as well as local county councillors addressed the meeting.
Following their deliberations, the cabinet agreed not to proceed to consultation on the 22 proposed closures.
Councillor Ann Hartley said: "My cabinet colleagues and I are well aware of the huge challenge we face if we are to continue providing high quality education for all Shropshire children while pupil numbers continue to fall.
"Our decision today will enable us to take action by consulting on the merging of some schools, while continuing to discuss and consider potential ways forward with schools and stakeholders."
Schools minister Jim Knight had written to all councils across England, reminding them they should not be closing small village schools.
Shropshire County Council will now give full consideration to the outcome from an all-party delegation which was due to meet Mr Knight later on Wednesday (30 January).
Further analysis will also be carried out on the information received from schools and communities over recent days, said a council spokesman.
In addition, more talks and structured debate would take place with schools and key education stakeholders.
See also:
• Councils warned over school closures (30 January 2008)
• Hundreds of rural schools 'face closure' (28 January 2008)
• Pupils 'benefit from school closures' (8 November 2007)
• Rural and city schools 'should twin' (8 May 2007)
• Countryside 'vital' to proper education (5 July 2007)