RURAL communities are being marginalised by the government, an influential group of MPs has warned.
• Gordon Brown clips Defra's wings
• PM told to convene urgent rural summit
The countryside "punches above its weight" economically but its contribution could be boosted if government help was better tailored to specific rural needs, said the Environment, Food and Rural Affairs Committee.
Rural people were often good at taking the initiative to help their communities and businesses, but did not always get support from public bodies, it said.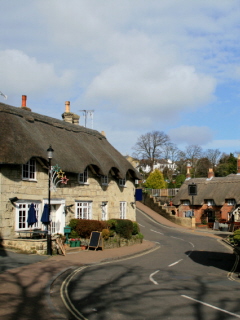 There was a strong perception that rural affairs were being marginalised by
Defra
, said a committee report published on Wednesday (29 October).
The report, called The Potential of England's Rural Economy, was published following a lengthy inquiry into the rural economy.
Now that most climate change responsibilities have been removed from Defra, the report says the department should take the opportunity to focus more closely on its rural affairs responsibilities.
Committee chairman Michael Jack said: "Defra must raise its game on rural affairs if it is to unlock the billions of pounds of untapped economic potential in the countryside.
"With climate change gone from Hilary Benn's in-tray, his department must spend more time banging heads together across Whitehall to really make thorough 'rural proofing' of Government policy a reality."
Entrepreneurialism was "alive" in the rural economy, said Mr Jack. But the government must find a lasting solution to the challenges of affordable housing, transport costs and the maintenance of a skilled labour force.
"Defra should look again at its rural departmental objectives as few have any belief that the current ones really will build a successful and sustainable rural economy."
A poor understanding of rural economies was one of the most significant barriers to realising their potential, the report said.
Some 80% of employment in rural districts was in four key sectors: distribution and retailing; business and financial services; public administration, education, training and health; and manufacturing.
The committee said it agreed with witnesses who gave evidence to the inquiry that Defra's Departmental Strategic Objective of "Strong Rural Communities" was confusing and not easily understood.
Defra should adopt a broader approach to support economic growth in all areas rather than focusing just on poorly performing areas, it said.
Based on the evidence received, the committee recommended that Defra adopt the term "Socially and Economically Sustainable Rural Communities" for its Departmental Strategic Objective.
The report voices surprise that transport, communications, planning and further education -all issues raised repeatedly during its inquiry - were not adequately addressed in Defra's new rural affairs objective.
Delivery of Defra's rural affairs objective would depend heavily on other departments, regional development agencies and local authorities, the committee concluded.
Defra should produce a delivery plan setting out what assistance it needed from these bodies, how it would communicate those needs to them and what feedback it would seek.
Within the next six months, Defra should publish a detailed commentary on its current rural affairs work to provide a greater insight into its rural development role.
It should also take the initiative with other departments to ensure that rural England's interests were taken into account.
A recent report by the Commission for Rural Communities estimated the untapped potential from rural businesses to be £236-£347bn per year.
The committee said Defra should produce its own estimate to help it make a case for the resources to enable rural areas to meet this potential.
              See also:
                     • Gordon Brown clips Defra's wings (6 October 2008)
                     • PM told to convene urgent rural summit (6 June 2008)
                     • One million rural people 'living in poverty' (3 March 2008)
                     • Call for action to support rural England (3 March 2008)
                     • Tories lambast Defra's performance (5 December 2007)
                     • Spending review ignores rural affairs (9 October 2007)
                     • Flood recovery scheme reaches £1m (2 October 2007)
                     • Watchdog to probe summer of misery (19 September 2007)