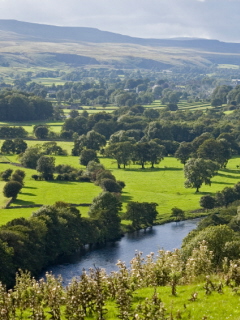 Prospects for rural development were examined by researchers at the Centre for Rural Economy, Newcastle Unversity.
Their report outlines five key issues for rural affairs drawing on the centre's research findings.
The five issues are: rural economies, rural communities, housing, broadband and an ageing rural population.
Rural districts had a growth rate in VAT registered businesses of 2.7% against a decline of 0.3% for England as a whole from 1998 to 2006, says the report.
But rural districts have lower gross value added per head, lower wage levels and lower overall levels of investment than urban districts.
"Rural policy should strive to support those living and working in rural areas," the report says.
Changes in planning and rural economic development policy are required to encourage more rural business start-ups, it adds.
The belief that rural areas are characterised by strong communities continues to shape the rural agenda of all three major political parties, the report says.
The past decade has seen community based planning increase and a bigger role for community ownership and management of rural assets.
But the report warns against policy prescriptions that treat rural communities as all the same.
"There is a need to recognise the role that a multitude of public and voluntary organisations play in supporting rural communities and actively develop this capacity."
The report describes housing markets as a "principal engine of social change" in rural areas and a crucial factor in the sustainability of local communities.
But it warns that access to rural housing continues to be increasingly restricted to a wealthy few.
On the issue of broadband, the document says many rural areas suffer from an inadequate telecommunications infrastructure for broadband.
"The approach to the roll-out of broadband in Britain has emphasised the role of the market in providing infrastructure," it says.
"The public sector will need to be proactive in looking at broadband provision to remoter areas."
An ageing rural population also poses challenges.
Two-fifths of the English rural population is over 50, a quarter is over 60, and one in twelve is over 75.
"The ageing population has been portrayed as a looming threat for society," the report says.
There are real challenges for pensions and welfare systems but also opportunities for rural businesses and community based services.
The full document can be downloaded here.