· House of Lords Post Office debate - full transcript
· Special report: The Post Office Network Change Programme

Plans to close 2,500 post office branches were "a failure of imagination and of joined-up government," he told the House of Lords on Thursday (24 April).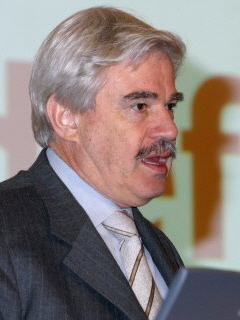 Lord Whitty served as a parliamentary under-secretary of state at
Defra
from 2001 until the 2005 general election.
He is currently chair of the new National Consumer Council, which is set to merge with Postwatch and take on responsibility for public consultation in relation to post office closures.
The number of branch closures had already been decided, said Lord Whitty.
Postwatch was going through the proposals and carrying out the kind of consultation that the Post Office itself should arguably have done earlier.
"But however effective those representations, 2,500 post offices will be closed. It is only a question of which post office will close. That is an unnecessarily narrow choice."
Lord Whitty said the government should take a holistic approach to deprived rural and urban areas and see what kind of services and support was needed.
"We should look at it not simply through the tunnel of Post Office finances and subsidy but in terms of what the community itself really needs."
He added: "It is important that local authorities as well as central government play a major role in this issue.
"Central government need to raise their sights and consider what the people in the communities which have lost or are about to lose their post offices really need.
"They should not see the issue from such a narrow perspective."
Meanwhile, Post Office Ltd itself came under fire from Essex County Council leader Lord Hanningfield who hopes his local authority can keep some branches in the county open.
Earlier this year, Essex became the
first local authority to announce it was hoping to subsidise post office branches
and use them to offer council services.
Other local authorities are monitoring the situation closely.
Post Offices were community assets - just like libraries or community centres, Lord Hanningfield told the House of Lords.
"In Essex, when these potential closures were announced at the end of last year, we thought that we had to do something different about it."
Spending about £500,000 a year on the retention of post offices in Essex seemed a very worthwhile social thing for the council to do, said Lord Hanningfield.
But the Post Office was making the council's plan difficult.
"Months after we were meant to have it, we haven't had the financial information," he said.
See also:
• Cornwall to probe post office closures (11 April 2008)
• 'Deep concern' over post office closures (2 April 2008)
• Government wins vote on post offices (19 March 2008)
• Council's £1.5m bid to save post offices (19 February 2008)
• MPs hit out at post office closures (11 February 2008)
• Protests fail to save rural post offices (14 January 2008)
• Fight for post offices, residents urged (9 January 2008)
• Bishop hits out at post office plans (24 December 2007)
• MPs probe post office closure plans (17 December 2007)
• Study counts cost of postal closures (13 December 2007)
• Consultants called in over post offices (29 November 2007)
• Service fends off post office closures (26 November 2007)
• Park chief speaks out on postal closures (6 November 2007)
• MP's campaign against post office closures (23 October 2007)
• Celebrities line up for post offices (15 October 2007)
• Councils in move to save post offices (3 October 2007)
• Watchdog in plea over post offices (3 October 2007)
• Threatened Post Offices are named (2 October 2007)
• Thousands sign Post Office petition (13 July 2007)
• Postal plan threatens village shops (13 June 2007)
• 2,500 post offices set to close (28 May 2007)