At 5.8%, unemployment is at its highest rate for eight years – and growing at its fastest since the 1990s.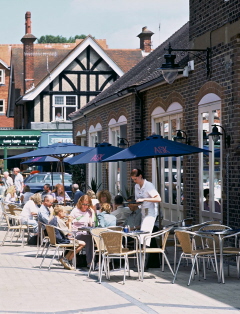 Some 1.825m people are out of work, with a quarterly rise of 140,000 recorded between July and September.
But counties, rather than major cities, are bearing the brunt of the downturn, according to Phil Gregory, research and marketing assistant at Local Futures.
A disproportionate number of areas in the south of England are experiencing high increases in unemployment, he added.
In particular, Wiltshire, West Sussex, Hampshire, Surrey and Dorset have suffered the most, said Mr Gregory in an article published by The Guardian.
These five counties are home to half of the 43 districts with the highest percentage change in unemployment.

Ranking of unemployment increases
(October 07 - October 08)

Rank
 Area
% change
Top 10
1
Crawley
100.00
2
Mid Sussex
83.33
3
Fareham
71.43
4
East Staffordshire
69.23
5
Adur
66.67
6
East Dorset
66.67
7
Purbeck
66.67
8
Tandridge
66.67
9
Poole
66.67
10
South Derbyshire
66.67
Bottom 10
397
Camden
0.00
398
Ceredigion
0.00
399
Hackney
0.00
400
Lambeth
-2.56
401
Boston
-4.00
402
Western Isles
-4.55
403
Brent
-5.56
404
Southwark
-5.56
405
Cambridge
-7.14
406
Slough
-8.70
source: Local Futures
"Restaurants, hotels, business services, distribution and finance are all experiencing the largest falls in employment.
"The construction industry has also been badly impacted in terms of increased redundancies and reduced vacancies.
But major cities so far remain largely unscathed.
"London has actually experienced falling unemployment in three boroughs, and static rates in several others," said Mr Gregory.
"This is because redundancies by workplace do not necessarily affect the local workforce."
The impact of the downturn on consumer confidence is also having a significant effect on unemployment locally.
"Any district relying on high levels of local spending and consumption will be at risk," said Mr Gregory.
It was important for regional and local agencies to assess their exposure and for the government's national response to have a targeted, local focus.
See also:
          • Police urged to target rural concerns (30 July 2008)
          • Rural constabularies face budget cap (28 March 2008)
          • Crime rises faster in the countryside (26 March 2008)
          • Police ask rural residents to pay for patrols (18 March 2008)
          • Police 'failing' in fight against rural crime (21 February 2008)
          • Text messages to catch rural criminals (14 February 2008)
          • Crime soars in the countryside (16 July 2007)