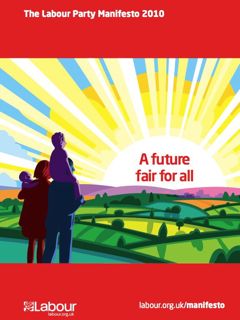 People in rural areas are entitled to excellent amenities and services, says Labour's manifesto, launched on Monday (12 April).
"Rural communities face unique challenges," it says.
"We are committed to continued investment in frontline services in rural areas."
Already £3.9bn is being spent on support for the rural economy through the Rural Development Programme for England.
A Labour government would continued to provide specific support to rural businesses, the manifesto pledges.
"We are building 10,000 homes in rural areas up to 2011," it says.
"We are protecting rural bus services and making it more difficult for rural schools to be closed."
The document acknowledges the importance of broiadband internet connections to rural businesses and communities.
And it suggests that plans will be revived to impose a levy on landline telephone connections to pay for faster rural broadband.
"We are committed to universal broadband access, irrespective of location," states the manifesto.
"The levy on fixed phone lines will pay for expansion of fast broadband connections to rural areas."
Rural villages should never be left without essential services, says the document.
Councils must already ensure that the importance of services to the community is taken into account before granting change-of-use planning permission.
"We will strengthen this to protect viable shops, pubs and community facilities," the manifesto pledges.
"We will continue to encourage and support imaginative solutions in rural communities to the provision of locally owned services."
Unveiling the 76-page document, Prime Minister Gordon Brown promised to reform the public sector.
"There are no big new spending plans, but there is a determination for every penny to be used wisely," he wrote in the manifesto foreword.
Excellence would be spread across public services, with every hospital a foundation trust.
There would be more power and responsibility for strong school leaders.
On crime and security, Mr Brown said underperforming police forces would be taken over and chief constables replaced.
The full manifesto can be downloaded by clicking here.
Further articles examining the Conservative and Liberal Democrat manifestos will be published on RSN Online in the run-up to the General Election.