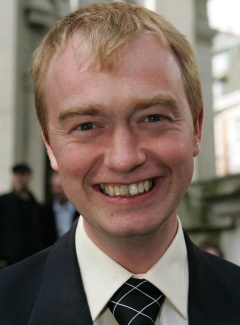 Shadow rural affairs secretary Tim Farron made the promise at the Lib Dem conference in Bournemouth on Monday (21 September).
"We are right to stand shoulder to shoulder with struggling communities in the face of the loss of key services," he told party delegates.
"And we are right to plan for affordable homes to revitalise those communities."
The full speech by the MP for Westmorland and Lonsdale can be downloaded here.
Innovative and practical were needed to create new affordable homes for families in rural areas, said Mr Farron.
A "Home on the Farm" initiative adopted by South Lakeland District Council – a Lib Dem local authority – could provide a blueprint for similar schemes in other areas
The grant scheme involves converting disused and underused farm buildings into affordable homes for local people.
"With proper government backing, this scheme will help breathe new life into rural Britain," said Mr Farron.
"That is why we will ensure that 50,000 new affordable homes in Britain's rural communities will be created in this way."
The Lib Dems would also grant councils power to increase tax on second homes and use the money to create affordable local homes.
"We are seeing the removal of post offices, village schools and public transport links because the houses that used to provide the demand for them are empty for most of the year."
A Lib Dem government would put communities in charge of their own destiny.
"In rural communities we are fed up of having things done to us, having services removed, being ignored," said Mr Farron.
"Nowhere does this cause more pain than when unelected NHS quangos close down rural hospital emergency units."
Longer ambulance journeys were putting lives at risk, just to satisfy national dictats.
"If you live in the countryside, the chances are that you are already living a long way from the safety of an emergency unit."
"How dare unelected bureaucrats close your unit and put your life in danger."
Rural communities should have the power to protect their vital health services and not fall foul of the one-size-fits-all Whitehall way.
Mr Farron also hit out at the closure of thousands of rural post offices.
"When a village loses its post office, it loses its hub, it loses its social glue, it loses its heart," he said.
A government with wit, commitment and rural understanding would breathe new life and purpose into the post office network.
"We will not let our communities die, we will not isolate those communities, we will not let a single rural post office close. That is a promise."