Shadow Welsh Secretary Roger Williams unveiled the campaign as the Lib Dems highlighted research showing that people in parts of Wales are paying more for their petrol.
A lack of public transport the greater distance needed to travel to obtain goods and service meant private cars were an essential part of life in rural communities, he said.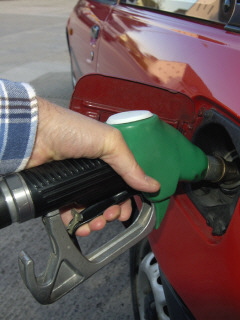 The government should obtain a derogation from the European Union so it could apply a lower rate of fuel duty in rural and inaccessible areas.
France, Portugal and Greece had already obtained similar EU derogations so fuel tax could be cut in rural areas, said Mr Williams.
"In rural areas, cars are a necessity - not a luxury - because of the way people lead their lives. People in rural areas are being stung because they simply have to buy more petrol than people in cities."
Mr Williams acknowledged that fuel prices were being driven by the global oil price. But the Prime Minister should take action to ease the pressure on rural communities, he insisted.
"Ultimately this is a test of whether the government cares about rural communities or not."
Fuel prices listed at the price comparison website www.petrolprices.com were typically higher in Wales than in England.
This was particularly true of rural areas where people in Brecon, Carmarthen and Bangor had to pay around 2p more for a litre of unleaded than in places such as Bristol, Shrewsbury and Birmingham.
A similar picture emerged from looking at the price of diesel, claimed Mr Williams.

"Not only do we have to pay more for fuel because we use more, we also pay a higher price at the pump because of the extra costs involved in distributing petrol to more remote areas."
The government has previously rejected moves made by the Lib Dems who have tried to seek a derogation by tabling an amendment to the Finance Bill.
See also:
• Carbon credits 'would hurt rural communties (27 May 2008)
• Budget 2008: Fuel duty rise postponed (12 March 2008)
• Rural diesel price soars to 120p/litre (2 January 2008)
• Rural roads 'worst for accidents' (19 November 2007)
• Councillor demands rural road rethink (18 October 2007)
• Campaign to cut rural road deaths (4 October 2007)
• Call to remove rural road signs (4 September 2007)
• Slow-down plea to rural drivers (13 May 2007)