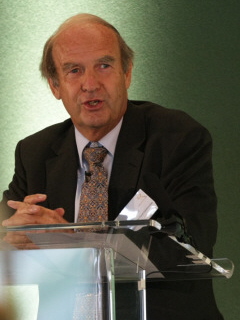 Commission chairman Stuart Burgess made the comments after the government said the agency would be scrapped.
"The announcement does not mean the end of the valuable work the organisation is doing for government and for rural communities," he insisted.
Staff are devastated by the closure of the commission, which has left many employees and rural projects facing an uncertain future.
But Dr Burgess suggested staff and rural stakeholders should draw hope from plans to transfer some work into a new Defra policy unit.
The loss of an independent commission was regrettable, he said.
But the government recognised there was still a need for expert advice about the impact of policies on people who lived and worked in rural areas.
"Thanks to the hard work and dedication of its staff and commissioners, the commission has come to be seen as an authoritative and constructive source of evidence, insights and practical rural solutions," said Dr Burgess.
"We will do all we can to ensure those strengths are transferred to the new rural communities policy unit and that work on priority issues – such as broadband, affordable housing and transport – continues uninterrupted."
Rural affairs secretary Caroline Spelman confirmed the abolition of the commission in a ministerial written statement.
Defra would reinforce its capacity to undertake rural work within the department, she said.
She added: "A strengthened rural communities policy unit will work across government to ensure that the interests of rural communities are fully reflected in policies and programmes."
Even so, it is unlikely all commission staff will be retained.
Sarah McAdam, the commission's chief executive, said current projects would be brought to a "useful conclusion" over the coming months.
"There will be much to do as we identify people and activities to be taken into the new unit," she said.
"This will be a very difficult time for our staff, but it is a tribute to their commitment that the core of our work will continue."
The commission would work closely with Defra and stakeholders to ensure the rural needs continued to be recognised, said Ms McAdam.